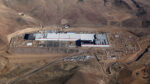 Officials in Austin, Texas, approved an economic incentive package for Tesla in an effort to convince the car maker to choose the Texas capital city over Tulsa, Oklahoma, as the site to build a $1.1 billion automotive factory.
The deal with Travis County, approved late Tuesday, is for $14 million in property tax rebates and brings the total value of the incentives to about $64.3 million over the next decade, with the bulk of about $50 million coming from property tax savings offered by a local school district. Tesla could also be eligible for millions of dollars in additional incentives from the state's Texas Enterprise Fund, a separate pool of state money that Tesla could seek to tap into now that the car maker has buy-in from local officials.
The economic incentive deal with Travis County comes as Austin competes with Tulsa, to score the huge factory, which is expected to span 4 million to 5 million square feet and make Tesla's first battery-powered all electric truck and other cars.
Oklahoma officials are also working on an economic incentive deal for the electric car company but no details have been disclosed except that the package is expected to help cover payroll and offer tax breaks and other assistance programs, according to media reports.
"We had a call with the governor of another state and mayor of another town just yesterday to go over a whole bunch of things similar to what we're going through now," Tesla's Rohan Patel told Travis County Commissioners during Tuesday's meeting, without naming the state or city.
The maneuvering shows the competition techniques used by some companies to win financial incentives from state and regional governments in return for their development projects and the related jobs they bring.
As the competition heats up, the Austin area incentives could be a significant boost in Texas' efforts to lure Tesla to an economically disadvantaged area of southeast Austin, where Tesla has identified a 2,100-acre site about six miles from the Austin-Bergstrom International Airport. Tesla did not immediately respond to requests for comment about its plans.
The decision by Travis County comes after officials held multiple public meetings with more than 100 members of the public speaking during hearings and 400 people submitting written comments, according to the county. Most commentators expressed support for the incentive deal, while several members of the public pressed the county to seek a better deal on wages, unionization rights and worker safety, according to the county. Some citizens opposed handing out economic incentive deals to a publicly traded automaker with a high stock market value, but the county said that was a minority of commentators.
The updated incentive package would provide more community benefits and slightly more tax revenue for the county than an earlier proposal. However, several labor activists criticized the deal for its failure to include more worker protections and for its lack of third-party monitoring to hold the company accountable to its end of the bargain.
Labor activists said the agreement would exempt Tesla from participating in the county's Better Building Program, which establishes guidelines for safety and payroll practices for construction workers.
"We in the community can see this deal is woefully inadequate for protecting the needs of Travis County's workers. With a project this large and important Travis County has an opportunity to set the tone for how business works in the county," said Chris Dunn, a paralegal and organizer with the Workers Defense Fund told commissioners. Dunn and other organizers with the nonprofit labor rights group urged commissioners to postpone the vote.
Several members of the public expressed support for the deal and urged commissioners to approve the deal.
"Our local economy has experienced an economic shock due to the COVID-19 pandemic and we are now presented with the unique opportunity to secure an industry-leading company that will provide good jobs and positively shape our region for many years to come," said Thomas Miranda, interim president and CEO of Greater Austin Hispanic Chamber of Commerce, which represents over 650 members in Central Texas.
Updated Deals
County officials reworked the incentive deal in the past month after receiving feedback, lowering Tesla's rebate to 70% of its operations and maintenance property taxes in the first decade, assuming the car maker invested $1.1 billion to build the plant, according to county documents. That amounts to about $13.9 million in cost savings for Tesla during the first decade, said Hector Nieto, spokesman for Travis County, in a phone interview.
That rebate increases to 75% if Tesla invests between $1.1 billion and $2 billion, and goes up to 80% if the California company invests more than $2 billion, according to the county.
Beyond capital investments, the deal requires Tesla to hire 5,001 permanent employees by the fourth year of the plant's operations. Tesla must pay at least $15 per hour plus benefits with wages increasing based on the consumer price index. At least half of the plant's employees would have to be Travis County residents or else the rebate amount would fall. Construction jobs must be created starting this year and have to pay at least $15 per hour.
If a worker made $15 hourly, that would amount to roughly $31,200 before taxes, putting those jobs in the low-income category for a single person or the very low-income category for a household of four people, according to the Travis County Health and Human Services. Tesla has said its average annual salary at the plant would be $47,000, putting those jobs at just below moderate income for a single-person household or a low-income salary in Travis County for a household of four.
The deal also requires Tesla to invest at least 10% of its operations and maintenance property tax liability into community programs, educational institutions and nonprofits working on issues such as affordable housing and public transportation. Tesla officials have expressed an interest in investing in job training and workforce development programs with a local public school district and Huston-Tillotson University in East Austin, according to the county.
The county agreement follows a separate incentive deal with Del Valle Independent School District that was approved July 9 that would save Tesla roughly $50 million in property taxes over a decade, according to a school district economic analysis.
Officials from Texas Gov. Greg Abbott's office did not respond to email and phone call requests for comment about whether Tesla is seeking funding from the Texas Enterprise Fund, which the state describes as the largest "deal-closing fund" in the country. The Texas Enterprise Fund's highest grants it has committed to recently include $24 million to Uber Technologies in 2019 for a hub in the Dallas area and $25 million to Apple in 2018 for a campus in Austin. However, car-hailing app provider Uber has been asking for extensions for some of its Texas incentives because of disruptions brought about by the pandemic.